Ambassador Kenneth Merten visited the "CEDI"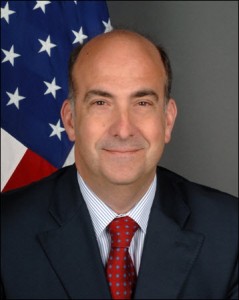 Ambassador Merten recently spoke at CEDI, Haiti's diplomatic academy. CEDI buildings collapsed during the earthquake on January 12, 2010 and classes resumed a year later. Ambassador Merten conveyed words of encouragement to Director Denis Regis, an IVLP alumni and a close contact of the Embassy for many years.
Ambassador Merten presented the U.S. government's plan to help in the reconstruction of Haiti and emphasized specific projects already in progress, including the creation of a new industrial park in northeast Haiti that will attract new investment and create thousands of new jobs.
Many of the students and teachers are Fulbright alumni; they were very enthusiastic and thanked the ambassador for his support. During the Q&A session, students and teachers discussed how to increase U.S. investment in Haiti and to continue building a positive image of the U.S. government. This visit also publicized the "Inside the State Department" DVD viewing that took place at the Embassy with several CEDI students as well as other students from different diplomatic schools in Port-au-Prince.